MuchMore


Loading...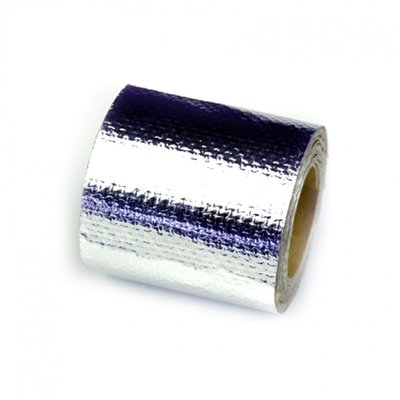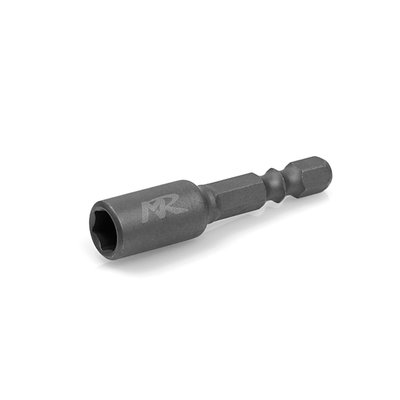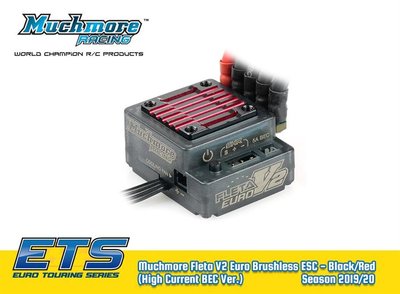 Muchmore Fleta V2 Euro Brushless ESC - Black/Red (High Current BEC Ver) - MM-ME-FLEV2
FLOW-MAX2™ OPTIMIZED COOLING DESIGN
FLOW-MAX2™ Air hole designed maximum cooling through various tests.

RPM LIMIT BLINKY MODE
FLETA EURO V2 ESC has RPM Limit mode functions.
Using the RPM Limit mode, ESC control the limit RPM when your driving. This mode more fair control stock race. This function operate "Blinky V3.0_25RE2" firmware, Easy setup change of Normal Blinky mode and RPM limit Blinky mode with out firmware update .
FLETA EURO V2 is the black translucent case, so you can easily check the mode.

DIRECT MOTOR & ESC COOLING FAN POWER
Battery power directly supply to the cooling fan, be able to do more high RPM cooling to ESC, Motor. ESC had separate motor cooling fan port, no needs soldering for the motor cooling fan wire.

- Optional Part-
MR-TU25FAN Turbo Cooling Fan 25x25x10mm
MR-TU30FAN Turbo Cooling Fan 30x30x10mm
MR-TU40FAN Turbo Cooling Fan 40x40x10mm

FELTA EURO V2 ESC Cooling fan is directly connected to the battery. However, if ESC turns off, the cooling fan will operate even. So battery voltage may drop if left unattended for a long time.

INTERNAL SWITCH SYSTEM
FLETA EURO V2's internal switch makes the wiring convenient.
- Power On/Off
- Calibration Setup
- RPM Limit Blinky mode <> Normal Blinky mode

If you want to change Blinky mode, With the power on Press setup button successively 3 times .
You can check which Blinky mode with LED status.

Normal Blinky mode: Green Fast Flashing
RPM Limit Blinky mode: Green Flashing twice and Red flash once

COMPACT & LIGHTWEIGHT DESIGN
FLETA EURO V2's compact & lightweight design, will make variety layout and spacious space on chassis. more easy adjusting the chassis balance.
Included 20x20mm ESC Cooling Fan and Motor connectors Female 3pcs, Male 3pcs

Current Continuous
Continuous 80A / Peak 380A
Input
2S LiPo, 2S LiFe, 5-7 cell NiMh/NiCd
BEC Output Switch Mode
6V/7.4V @3A
Suppoerted Motor Type
540 size 2 pole brushless with sensor type
Suitable Motor
Over 9.5T
Size
26.5 x 32.7 x 17mm
Weight
21.5g (without Wire, Capacitor and Cooling fan)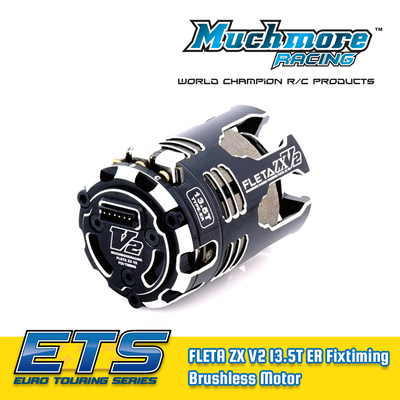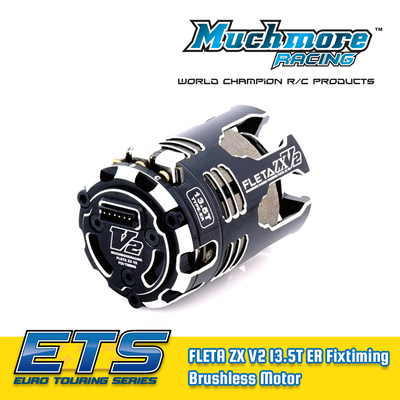 Muchmore FLETA ZX V2 13.5T ER Fixtiming Spec Brushless Motor - MM-MR-V2ZX135FER
Muchmore Racing research and development team succeeded to make a brand new motor that guarantees maximum power and efficiency.
Flow-Max 2 Cooling System is produced by simple 2-piece CNC processing that allows superior cooling effect.
We were able to enhance the cooling efficiency by 15% in comparison to our past motor products which is great achievement in terms of keeping the motor performance as high as possible.
In addition, the High Power New Stator Design approach doesn't use separate insulator.
Therefore, less weight and maximum cooling efficiency achieved.
All FLETA ZX V2 motor incorporates "Maximum Low Resistance Copper Wire" that allows low internal resistance which results in maximum output power increase.
The motor uses Heavy-duty silver-plate solder tabs which reduce resistance.
Also, it uses the double eyelet to prevent fatiguing over time.
The stator design achieves very low internal resistance in exchange for surprisingly high output power.
Improved ease of maintenance and loss of weight is additional features achieved by NEW V2 design.

All new FLETA ZX V2 motor promises maximum power output and RPM achieved by Pure copper magnetic wire
and Low resistance collector rings.
MIXED TIMING Version of new FLETA ZX V2 Brushless motor is now available.
FLETA ZX V2 Fixed Timing Brushless motor is consistent with the rules of the ETS, many national championships, club races.
All new stator design offers smooth acceleration both on- and off-road racings.
Our recently upgraded manufacturing capability has achieved "precision balanced neodymium high-temperature rotor" which shows enhanced performance.
Also, special setup program and optional rotors make various kinds of tune-ups possible according to drivers' choices.