RTR-Kits


Loading...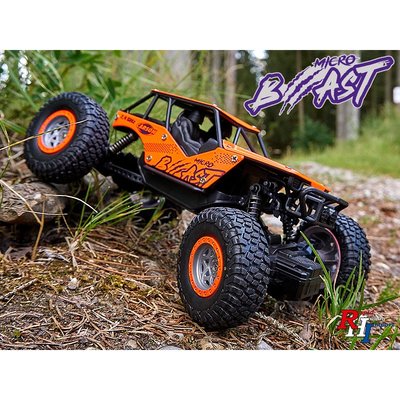 Carson 1/18 Micro Beast 2.4G 100% RTR - 404163
Technische gegevens:
- Volledig geveerd
- Grippy rubberen banden
- bodydelen van metaal
- Vlot en behendig
- Gedetailleerd gespoten
- Snel opladen via USB-lader

specificaties:
- lengte 200 mm
- breedte 120 mm
- hoogte 110 mm
- rijstijd 20 minuten

Veiligheid opmerking:
Niet geschikt voor kinderen jonger dan 3 jaar. De verpakking moet worden bewaard omdat deze belangrijke informatie bevat. De afbeeldingen kunnen afwijken van het product in de verpakking. CARSON behoudt zich het recht voor om op elk moment verbeteringen en wijzigingen aan te brengen.

leveromvang:
Gebruiksklaar model, 2,4 GHz afstandsbediening, NiMh-accu, lader, zenderbatterijen en instructieboek.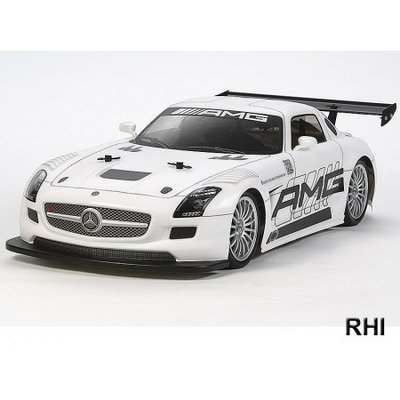 TAMIYA 1/10 RC XBS Mercedes-Benz SLS AMG GT3 'AMG' - 46624
1/10 RC XBS Mercedes-Benz SLS AMG GT3 "AMG"

TT01-Sport chassis

Hou t simpel
Tamiya kondigt met trots haar nieuwe Expert Built Sport (XBS) series aan een Ready-to-Run R / C model. Deze serie is ontwikkeld met drie belangrijke doelstellingen:

Eenvoud
Een grotere demografische van R / C gebruikers bereiken
Ruimte voor individuele aanpassingsmogelijkheden
De XB Sport modellen maken gebruik van een speciale versie van de TT-01 Type-E chassis

Gegevens:

1 / 10 R / C XBS Ready-to-Run-model.
De XBS chassis is een gestroomlijnde versie van de populaire TT-01 Type-E Chassis, en is dus compatibel met een breed scala van option parts om hem eventueel te tuning.
540 motor, regelaar, en Carson Reflex 2,4GHz zenderset zijn inbegrepen in de set.
Accu en lader zitten niet in de leveromvang.
De fraaie body is wit gespoten en klaar om gebruikt te worden.
Technische Daten:

Lengte 443 mm
Breedte 187 mm
Hoogte 141 mm
Wielbasis 257 mm
Tamiya nummer: 46624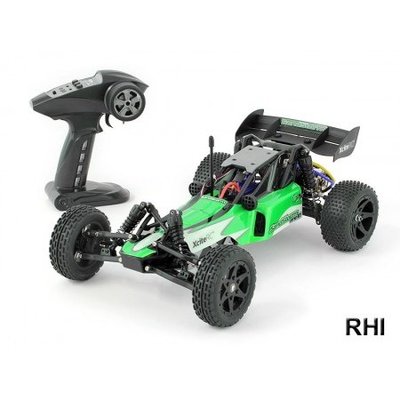 XciteRC 1/10th Scale Electric Powered 2WD Dune Buggy - GREEN - 30302000
XciteRC , 1/10 Sandstorm one10 2WD RTR Dune Buggy Brushed Green
With the Sandstorm the fun factor is program ! With 7.4 volts fired , the RC car sparked a veritable whirlwind of leaves tremble with power each surface. The RC model will appeal to the beginner , thanks to the interference-free 2.4 GHz remote control technology have major difficulties to keep this RC model always under control . The fully adjustable suspension allows for more ways to customize your buggy on his driving . Very helpful in this context are the precise working oil pressure shock absorbers which can be changed both on the shock tower as well as the lower control arm in your position and always ensure adequate soil contact with the high grip tires . For a perfect light running provide the standard ball bearings, durable metal drive shafts provide a low-loss power transmission to the rear wheels. An adjustable slipper protects the Kegeldiff against overload. Thanks to the precisely fitted model, it is now pushing only the Lipo battery from the bottom through the chassis into the model , remote control on , car and off we go .
features:
2 WD Rear Wheel Drive
2.4 GHz remote control system
Brushless System with 7.4 lipo battery technology available ( Lipo battery not included)
Adjustable camber front / rear
Adjustable shock positions front / rear
cone differential
High grip off-road tires ready for all substrates mounted on spoke rims
Scope of delivery:
Factory- assembled car, XciteRC XRC2i 2.4 GHz remote control , cruise control , manual, electric motor and steering servo .