My first indoor race at MRC Vianen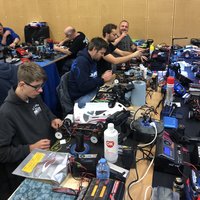 On 11th November I went to the MRC indoor races at Vianen with the guys of Racingline-RC. It went well. The Wednesday before the races Daniel and I had checked and prepared the car. I was already 0.4 seconds faster during my first qualification heat than during the practices in October, even though I started the first qualification late because the engine had come loose. During the second heat I focussed on staying on the track and improving my lap times. Very difficult! I ended up in the C-finales.
The races were very exciting because we were very close. In the end I just didn't make it bacause I don't have the driving skills yet that the others have. It wasn't easy to race that close and competitive without making mistakes.
I ended up second-last, but I have learned a lot. Racingline-RC, thanks for all the support!