My first training with the touringcar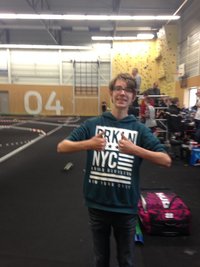 Hi everybody!
Sunday, October 28, we had a nice training on the indoor circuit in Vianen. We went with me (Nick), Daniel, Lincoln and Rick to practice for the upcoming matches.
It was the first time that I have driven in an indoor track and I notice that if you make a mistake you usually hit a hard bording and that there is then a greater chance than outdoor that you can destroy something, I have so the two bodies I had taken were destroyed.
When I started in the morning I did not know the track and I drove quite cautiously but later in the day I went quite fast. I got good help from Rick so I was only slower for two seconds per lap than the fastest! The car felt good and I only had a bit of a deviation to the left. I have had a lot of fun and hope that we will do it more often.
Bye,
Nick