NK Tourwagen Modified 2018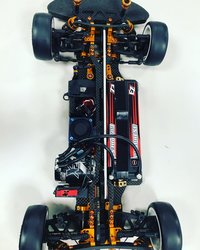 Hi racers!
So at the end of the summer season and the beginning of the winter season a small update from me. Last summer I participated in the Dutch Championship EC10 for the 4th year. In 2015 and 2016 I did that in the stock class where both times I finished 2nd in the championship, in 2017 I decided to drive Modified and again I became 2nd in the championship. In all three years I have unfortunately not been able to win a separate Dutch championship.
This year it was different, this year there were battles for first place, tactical changes and finally victory at the Dutch Championships.
At the beginning of the season I decided to start the season with an
Xray T4
2018, in combination with an LRP Flow X controller and LRP X22 4.5 engine. During the season I switched to a Hobbywing set consisting of a
Hobbywing XR10 Pro 160a controller
(naturally in orange) and a
Hobbywing G3 4.5 engine
.
This year there were 6 contests planned,
AMCA Apeldoorn
,
HFCC The Hague
, MRM Lelystad,
MACH Heemstede
,
RACO2000 Utrecht
,
Hotwheels Deventer
. The match at the AMCA was for many people a preparation for the Tonisport competition and subsequently the ETS competition that would be organized at the AMCA this year. It was a long time ago for me that I had driven in Apeldoorn, namely 2015, when it was very cold with snow and rain, now it was 30 degrees. On saturday tried to find a setup so the tires did not overheat and on Sunday the qualifications started with a good feeling. I was allowed to start in 2nd place and had a mega start in the 1st finals, unfortunately Sidney started less well and we touched each other. Finally, after nice battles in the 2nd and 3rd finals with Sidney and Govert, I was able to win! My first victory at an NK, very good feeling.
Then came the 2nd game, the home match, HFCC The Hague. This is the club where I am a member and where I spend my time every Wednesday evening. I know that I can be very fast on this track, but certainly on big races this puts extra pressure on. During the training on Saturday, I made it more difficult at the end of the day because I made a small mistake which damaged my chassis plate. After a quick change of the chassis for a new one run made, the car was fortunately still good. Sunday started the game, for me it was very busy because I am on the HFCC also the person responsible for the race management and timekeeping. Fortunately, I was well helped by my RC friends from HFCC! Qualifying 1 and 3 won me pretty convincing so I was allowed to start from spot 1 in the finals. The finals I have all three checked out, especially Florian Joos good party offered! HFCC is a job that suits him very well. For example, after 2 NK races in the season 2018 I already had 2 victories and I was at the top of the standings.
Competition 3 would be held at MRM Lelystad, unfortunately this race was canceled due to organizational problems of this club.
Competition 4 was at MACH Heemstede, another circuit where I am a member, but certainly less to be found than at HFCC. Again and very warm weekend combined with high speeds, unfortunately this resulted in a number of problems with the tires. The fast riders were present again and promised to be a nice weekend. After qualifying, I was on the 2nd spot of the starting field behind Mitchell van Es. I started the first finals very well and in the 2nd lap I overtook Mitchell after he got confined. So I also took the lead in the 3rd match of the Dutch Championships! Unfortunately this, in combination with poor food and little drinking, caused my nerves to control me and I threw this 1st spot quickly. The 2nd finals I had a nice fight with Sidney and Florian where I sadly went to the end and became 4th. The final final then had to secure the podium. I decided to drive more aggressively and try to overtake Mitchell at the start of the final. Unfortunately, I made a mistake and Sidney and Florian came along again. In the 4th place with another final for me, I was determined to drive forward again. However, fate struck and my band exploded on the straight after 10 laps. In total I became fourth in this competition, just not a podium. Because Sidney took 3rd place here and was already close to AMCA and HFCC, it was clear that it would be the last 2 matches between us.
A small tip, though RC driving is so nice, always make sure you just eat normally and drink enough, especially with the temperatures of last summer.
Competition 5, RACO2000 Utrecht. The track was only equipped with new asphalt and unfortunately it was still unable to find any grip, mainly because of the dust that came from outside the track. On Saturday I tested and I quickly came to the conclusion that a 6.5 engine was a better choice. (For comparison, with the 4.5 engine the rotor runs about 70-80 thousand rpm, depending on the track, with the 6.5 engine I got just 50 thousand rpm.) This engine made sure that I could keep the car fairly easy on the track especially because of the lower torque. After a rather boring qualification, I was allowed to start 2nd behind Sidney. I decided that on this circuit with this grip, I did not want to attack Sidney and take the risk of losing places. The first finals started well, Sidney soon had a hole forward and I was on the second place a hole backwards. Unfortunately I hit a loose pebble and was launched on the track, the rest of the final I drove a damaged rear wing, and I was still 3rd. The next final was clear that Thomas had been ordered by Sidney to overtake me and this he also tried, sometimes very enthusiastic. In the 3rd finals Sidney and I made a fight, we touched each other and Thomas was suddenly on 1. Thomas let Sidney along and wanted to block me, fortunately I could find a hole soon and the 2nd place to grab. Eventually I became 2nd in this match.
At the 6th game we went to Deventer, Hotwheels. This is the 4th time for me to ride the Dutch Championship there, and the 4th time that it is raining. Unfortunately, I have never driven a completely dry race, very sad, the track is fun small and technical and still gives quite a lot of grip. We were there on Saturday, rain. The predictions were worse for Sunday, after consultation between the Modified riders it was decided not to drive.
This means that with 2 victories and a 2nd place I can call myself the Dutch Champion EC10 Modified 2018! After 3 years it has succeeded.
If you want to know something about my setups (controller / car) then you can always send me a message on Facebook or via Racingline RC.
Race you next time,
Rick